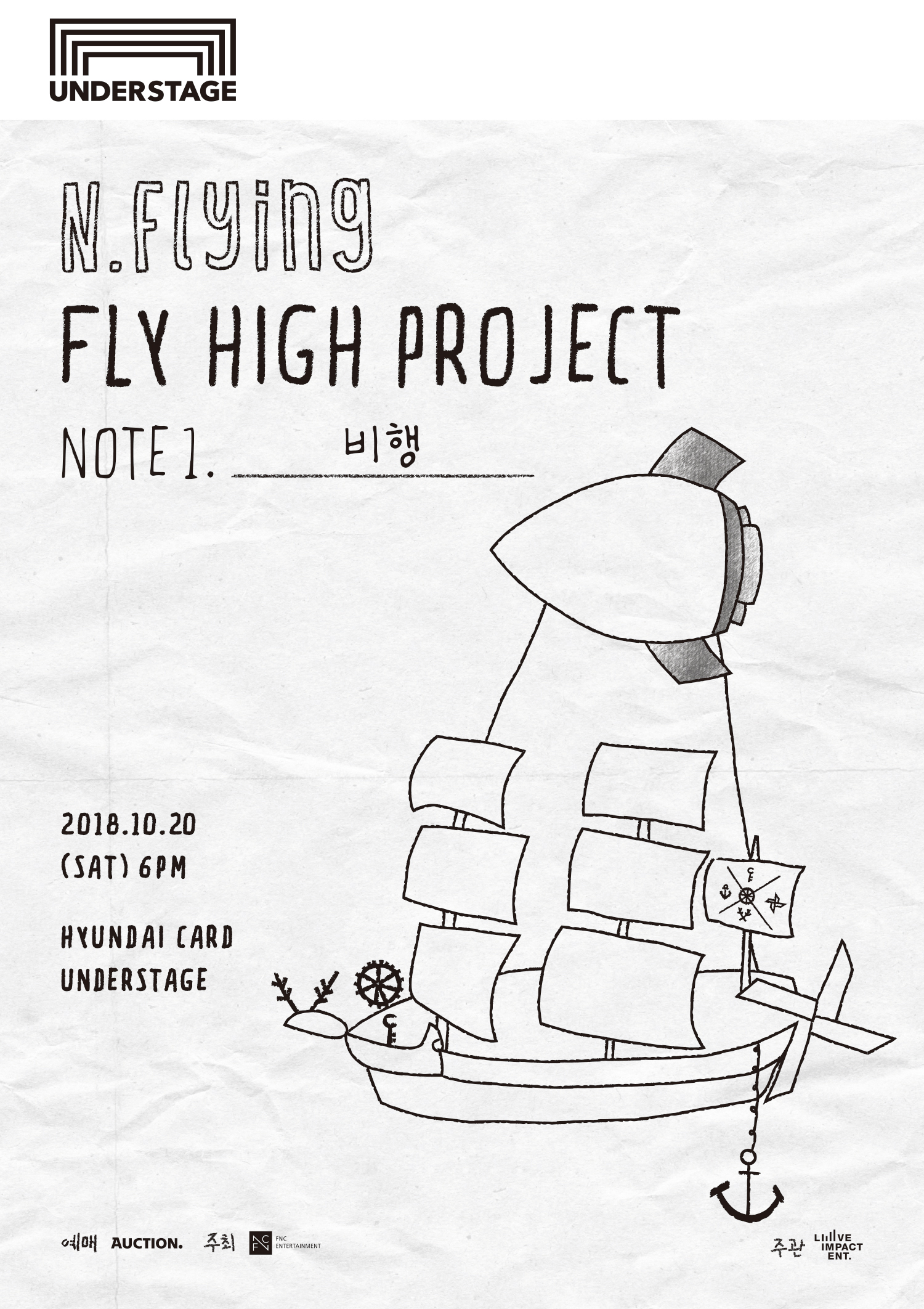 [티켓오픈일정]
※ 티켓오픈 : 10/1(월) 6PM ~

[공연정보]
- 공연명 : N.Flying FLY HIGH PROJECT NOTE1.____
- 공연일시 : 2018년 10월 20일(토) 오후 6시
- 공연장 : 현대카드 언더스테이지
- 티켓가격 : 전석 55,000원
*현대카드로 결제 시 10% 할인
*본 상품은 카드결제만 가능합니다.

[예매 시 주의사항]
1. 본 공연은 전석 서서 관람하는 스탠딩으로 운영됩니다.
2. 예매 시 선택한 번호순으로 입장하며, 예매 시 앞 번호를 선택하실수록 입장순서가 빨라집니다.
3. 개인별로 지정된 구역 없이, 입장하여 본인이 원하는 곳에서 자유롭게 관람을 하실 수 있습니다.
4. 티켓의 취소, 변경, 환불은 정해진 기한 내 예매처를 통해서만 가능합니다. (문의: 옥션티켓 1566-1369)
5. 만 7세 미만의 미취학아동은 청각에 무리를 줄 수 있기 때문에 관람이 불가능하오니 양해바랍니다.
6. 본 공연은 1인 4매까지 예매 가능합니다.

감사합니다.
[Ticket Open Dates]
※ Ticket Open: October 1st (Mon) 6PM ~
[Concert Information]
- Concert Title: N.Flying FLY HIGH PROJECT NOTE1.____
- Date: October 20th, 2018 (Sat) 6PM
- Venue: HYUNDAI CARD UNDERSTAGE
- Ticket Price: KRW 55,000
*Payment with Hyundai Card will be subject to 10% discount.
*Ticket may only be purchased with Card.
[Precautions for Ticket Purchase]
1. This concert is all standing.
2. Entry will be based upon your reservation number made when purchasing your tickets.
Entry will start from the smaller number.
3. Standing sections are not divided and you will be allowed to watch the show freely after enter the venue.
4. Cancelation, change or refund of tickets will only be possible within the set period given by the ticketing site.
(Inquiring number: Aution Ticket 1566-1369)
5. Preschool children under the age of 7 are not allowed to attend the Fan meeting as it may cause hearing impairment.
6. You may purchase up to 4 tickets.
Thank you.